Filling the "Empty Chair" with Love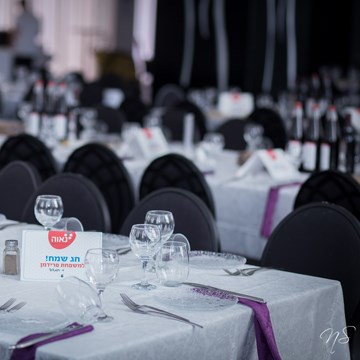 Every year, the Navah organization hosts a Passover Seder for families who have lost their loved ones in the IDF, in terror attacks or due to a tragedy. The project is organized every year with love and dedication by two women on an entirely volunteer basis. More about the idea behind this selfless initiative, the heart to heart connections, and the challenge of raising the funding for the project
By: Michal Bashan
Navah
"A terrorist attack, the sudden loss of a beloved family member, a fallen son or daughter; these are difficult events that change entire lives in an instant. The Navah organization shares the pain of the bereaved families in Israel and extends them an embracing, understanding hand, especially during the holidays. This year as well, the organization will invite dozens of bereaved families to sit around the Seder table in an environment that makes room for pain and mourning, mixed with laughter and life. Thus we will try, together, to fill the void in a warm, strengthening holiday atmosphere – despite the loss, and with it." These words are featured at the top of the Navah organization's website.
The organization was founded in 2002 and is managed on a volunteer basis by Tehila Friedman – an active entrepreneur who has developed several programs and businesses in Israel. Tehila has vast experience managing work teams and large projects, and currently manages Taasukatif, an organization to help the former residents of Gush Katif find employment. She is also the CEO of Taasukati, which helps various populations integrate into the workforce. She lives in Kiryat Yearim, is married and has six children.
Chavi Ehrenfeld from Beit Shemesh is the coordinator of the Seder night project for bereaved families, entitled "The Empty Chair." She is just 38 years old, currently completing her Master's degree, and known in the city as the manager of her own company – "Chavi Ehrenfeld – Academic Education for Ultra-Orthodox Women." She lives in Ramat Beit Shemesh with her husband and their three sons.
Tehila and Chavi are very busy these days, because the Seder night is quickly approaching. Although almost everything is ready logistically, but as every year, the amount that has been raised to sponsor this special evening, which charges the bereaved families with energy and love – is much less than its cost. Chavi and Tehila obtain dignified accommodations at a hotel, at attractive prices for the entire Seder night, and they are not willing to stop this altruistic project even when they encounter difficulties. Indeed, over the past decade, since the Madoff crisis that harmed many non-profit organizations in Israel, and especially over the past five years, the big donations stopped coming in, and the two women raise all of the money themselves, with great effort.
How It All Started
               Chavi entered the non-profit world in 2001, when she and her husband returned from a 4-year tenure as Jewish Agency-Ministry of Education emissaries in a Jewish community in Eastern Europe. Chavi, who was a licensed teacher, felt that continuing in the teaching profession was not right for her, that the system was too small for her, and that she wanted to save her patience for her own children. When she spotted a wanted ad from the Navah organization, she saw that they were searching for a project coordinator as a maternity leave cover. Chavi contacted them and found herself "inside." When the leave period was over, Tehila Friedman, the founder and manager, asked her to continue to work with her. They managed to organize many projects together on behalf of the bereaved families, including: the establishment of support groups, organizing breakfast meet-ups, outings, parties and more. The goal was to establish a small, supportive community for families who had undergone the absolute worst. At some point, when it became evident that the Madoff crisis had severely hurt the third sector, Tehila and Chavi decided that the organization had to close its doors due to the lack of donors. Each of them continued on to business management positions, but they held on to their "baby" [the Seder project], because they felt that it had to keep going, despite the financial challenges, and that they would overcome them, as volunteers.
Tell us how you begin anew every year?
The truth is that to host a joint Seder for so many families, you need to work throughout almost the entire year. We don't have one specific hotel for the Seder. It is important for us for there to be a good feeling, but every year, there are changes: one time, the hotel doesn't want us; the next time, we don't want them. The idea is to find a hotel where the families will be comfortable staying for two days of the holiday, and for the cost to be low so that we can manage to pay. I hold conversations with many families, some who are returning families and some who, unfortunately, are new and have experienced loss over the course of that year. This project has a human, emotional side to it; there are a lot of personal relationships and connections that sometimes last for many years. The last month before the holiday is especially busy, and also the most tense in terms of the discrepancy between the cost and the donations. The project isn't over after the holiday, either: thank you notes need to be sent out, payments settled, tracking done and lists prepared.
How do you manage to do all of this when both of you are running businesses, raising children, and you've been learning over the past few years too?
When I was young, my parents used to host families who immigrated from the former Soviet Union. Later on, I met a woman who, as a child, was a guest at our home with her family. It was very emotionally fulfilling – it fills you with satisfaction. While it isn't easy, the value of these efforts is huge. As someone who grew up in an ultra-Orthodox home, I didn't serve in the IDF and I didn't do National Service, and I feel a very strong need to help the Jewish nation. This is a project on behalf of all of the bereaved families, and it isn't connected to a certain sector. In my work, I also have a lot of satisfaction from the fact that I am helping ultra-Orthodox women access higher education and eventually receive academic degrees, paving their way to the world of significant, well-paying work. But these projects are genuine excitement and generosity – it's completely a clean, pure connection to the Jewish people. It's stepping out of one's comfort zone and directly touching people's hearts, touching their souls with a hug and encouragement. This work empowers us and the families, providing comfort and creating a sense of unmediated partnership. My dream was to volunteer at a hospital once a week, but because I am a mother to young children, I can't make time on a regular basis for weekly volunteering. This project gives me similar satisfaction to the volunteering that I dreamed of, and it takes place once a year.
Are friendships formed as a result between the participants?
That is definitely one of the objectives of the joint Seder. The connections that are developed and continue afterward are very important. There are not always forums for families who have experienced bereavement, and no therapist can understand and feel it the way that it is felt by those who have experienced it themselves.
Have you found yourself connecting people who didn't meet each other at the Seder?
Yes. One of my students lost her 14 year old son very suddenly. It was obvious to me that I would go to comfort them when they were mourning, and indeed, when I visited her, I thought about introducing her to someone who had participated in one of the Seders after a very similar experience. When I talked to her about it, it turned out that they already knew each other, because my student's younger son was friends with the son of the woman who had attended the Seder. It is chilling to see how bereavement connects people like a puzzle. It shook me up, and it took me a full day and night to calm down about the fact that two women who I know from different contexts, from my separate worlds – met in this painful space. The student supported the other woman while her tragedy was still fresh, and said to me: "I can see the painful punch that is about to hit her in her soft stomach, and I know from my personal experience how much it will hurt." Indeed, she supported her and helped her get through the stages of the immense pain and sorrow.
This is the idea behind the entire project: not just to fill the empty chair, but to create a supportive community that will accompany the family during those first years, until they feel strong enough to go back and have the Seder at home. Hadas Mizrachi is a widow who, during the hours before the holiday, as she drove with her husband and their children to celebrate the Seder night in Kiryat Arba, was seriously wounded and her husband shot to death. She has been spending the Seder with us for two years now. It needs to be understood that the difficulty for these families is not connected to not having a place to spend the holiday. It is the fact that when the spend it with individual hosts, they feel that they are clouding the holiday cheer by bringing their pain and sorrow with them. During the joint Seder for those who have undergone a similar experience to theirs, the feeling is of a shared fate, mutual understanding and a broad space to feel the complex emotions that these families feel.
How do the families know to contact you?
               That is truly amazing. We don't advertise the project. This year, we sent a message in a WhatsApp group, and it immediately spread by word of mouth. The Seder can host 150 people, and two months in advance, there isn't any more room left. Unfortunately, the number is limited, and one of the truly hardest parts is saying no to a family who reaches out to us when there is already no more room.
How does the fundraising work?
               In the past, we had our regular sponsors, but unfortunately, over the past few years, we have not had sponsors who we can ask. The price is especially low, NIS 1,000 per person for two days, including the Seder, but that means that we need to raise NIS 150,000. This year, Tehila took out a private loan, she doesn't sleep at night, and the two of us say Tehillim to ask G-d to help us. Last year, we set up a crowd funding project, and only on the day of the Seder itself did we reach our goal – which shows us that miracles truly happen here. We opened an internet app, where every person can donate as much as they see fit, and the families follow the progress and watch the donation amounts, and they feel the encouragement that is being sent to them by the Jewish nation. There is a message here that goes beyond the donation, and it says: "We have not forgotten you, we are with you in our hearts always." That is encouraging, it creates a feeling of togetherness, and this partnership can be a big source of strength."
Do you and your family participate in this Seder too?
               The initiative started after the Park Hotel tragedy, and for the past ten years, we have been spending our Seder with the bereaved families. My children have never experienced any other type of Seder, and this is a formative experience for them that teaches them how important it is to bring happiness and support those who are struggling, especially around the holidays and family-oriented occasions. A week ago, we celebrated my eldest son's Bar Mitzva, and he invited another boy to the party who he met at the Seder, after the boy lost his father. My son and this boy kept in touch since then and met again at our Bar Mitzva. This year, Eliezer Rosenfeld will be conducting the Seder. He lost his son years ago, when he was just 19 years old.  Last year, another one of his sons was also killed by terrorists. I have been in touch with them since the first tragedy hit them. Eliezer Rosenfeld is an amazing man who has undergone difficult and painful experiences, and with his intense, deep pain, he is capable of strengthening and uplifting the families. He knows exactly how intense their pain is. He and his family are coming to conduct this Seder as volunteers, as messengers of their sons who were killed, and I am very moved by them.
How can we help you conduct this Seder without the terrible stress about the financial burden?
               Go to the Mimuna website and search for the Empty Chair project. There are different amounts that you can choose, so that each person can donate whatever they can. The list of donors shows the families that they are not alone, that people remember them, that they haven't been abandoned, and no less important than the donation is the embracing statement that creates a sense of unity and partnership.
               You can also visit our website, www.navah.org.il. This year, families whose families were murdered over the past year will be participating, including: the Ariel family from Kiryat Arba whose daughter was murdered, the Mark family whose father was murdered, the Lev Ran family whose daughter passed away, the Weissman family whose father was murdered, the Rosenfelds, who recently lost a second son in a terrorist attack, and others.
From an interview in Atnachta magazine:
Tehila Friedman: People arrived broken, crushed, with eyes red from crying. At the beginning of the Seder, I stand in the middle of the room and say to the people: "Let's strengthen one another." Suddenly, one man, whose son was killed just a few months earlier in Jenin, gets up and pulls everyone into a circle singing "Am Yisrael Chai." It was a Seder that I will never forget.
Chavi Ehrenfeld: Often, there are social expectations from bereaved families. "We've made the Seder, so we expect you to stop being sad and smile." But what can you do – the widow isn't happy? We say to people: "You can come here just the way you are, and take whatever you are capable of taking."